Waterproof and durable Oxford nylon material - the KYG car trunk protector is made of high quality Oxford nylon fabric and filled with PP cotton. With PVC coated fabric, this cargo protector has excellent water resistance against muddy feet, dog hair, powders and liquids, etc.

Considerate designs - the fenders of the car protector are designed with zippers, which can prevent dirt from being stored in the corners. The KYG trunk cover is filled with PP cotton which can comfort your dog. It also has a pocket to collect the sundries and you can find what you want easily.

Easy to install and remove - you can install and remove the dog cargo liner easily within 3 minutes. With the double adjustable straps, you can adjust the straps to fix your car. In order to ensure the durability of magic sticker, please make the car trunk clean and dry before using.

Simple cleaning - This fabric is very easy to clean and maintain in good condition. To clean stains and mud from dogs and cats, simply use a damp cloth. If the dirt is deeper, you can clean the dirt easily in a few minutes after removing this cover from the car, using a brush and a high pressure hose.

Save space - If you don't need the cargo cover, you can fold and put it in the corner. It just takes up very little space in your car trunk.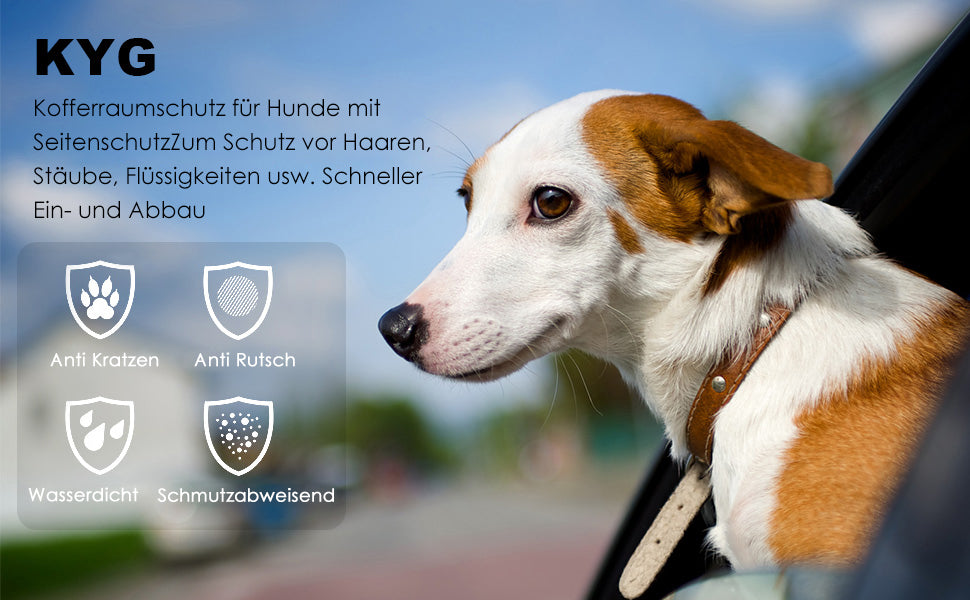 Mit KYG Kofferraumschutz schützen Sie Ihren Kofferraum nachhaltig und effitiv vor Schmutz, Tierhaaren, Flüssigkeiten und Beschädigungen.
Premium qualität Oxford Gewebe, robuste und langlebig, wasserfest und rutschfest, waschbar und abwischbar.
Schützt vor Tierhaaren und Schmutz, Ideal für Laden und Entladen.
Leicht an- und abzunehmende. Ideal für große Pkws und SUVs.
183*104*33cm(Länge/Breite/Höhe), bieten groß bereich Schutz.
Praktischer Schutz der Ladekante zum Be- und Entladen.
Zusammenfaltbar und platzsparend verstaubar.
Mit Seitenschutz für die Stoßstange.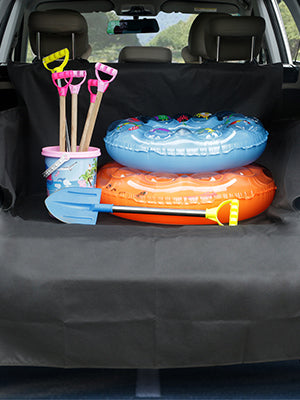 KYG Kofferraumschutz
Universeller Kofferraumschutz
Der Kofferraumschutz wird im Kofferraum eines Pkw angebracht. KYG Kofferraumschutzdecke ist ideal, um Ihren Kofferraum beim Transport vor Verschmutzung und Beschädigung zu schützen. Es ist Zusammenfaltbar und platzsparend verstaubar und ideal für großes Pkws und SUVs. Mit dem Auto Schondecke können Sie mühsames Reinigen des Kofferraumes ersparen.
Technische Daten:
Material: Polyester, Oxford-Gewebe
Größe: 183*104*33 cm
Lieferumfang:
1 x Kofferraumschutz
1 x KYG-Karte
4 x Aufkleber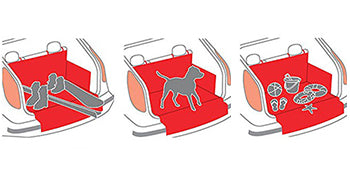 Wichtige Produktinformationen:
Die Abmessungen werden manuell gemessen, der Fehler beträgt nicht mehr als 2 cm. Diese Kofferraumdecke sind für die meisten Autos ausgelegt. Die verwendeten Modelle auf dem Bild ist: Ford Edge 2017. Sie können sich auf dieses Modell beziehen, um zu überprüfen, ob die Abmessungen anwendbar sind.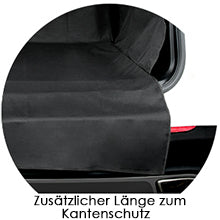 Der Kofferraumschutz besitzt nicht nur genug Länge zum Schutz der Ladekante zum Be- und Entladen sondern auch Seitenschutz für die Stoßstange.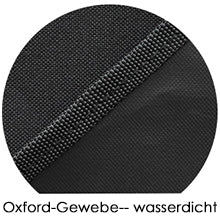 Premium qualität Oxford Gewebe, robuste und langlebig, wasserfest und rutschfest, waschbar und abwischbar.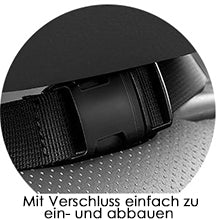 Mit 2 Klickverschlüsse an den Kopfstützen halten schnell die Kofferraumdecke in den Kopfstützenstangen der Rücksitze fest.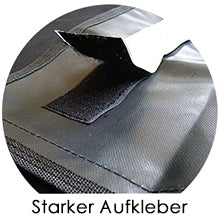 Mit 2 kräftige Klettverschlüsse für die Seitenteile verhindern ein Verrutschen der Decke und schutzen den Kofferraum vor Verschmutzung.