Food grade: KYG electric grinder is made of food grade stainless steel, which is perfectly used to grind food material.

Fast and Efficient: Thanks to the good quality motor of 9000 r/min, the grinder can grind the grains very efficiently and very quickly. In addition, with the help of this double-edged stainless steel blade, you can make fine powder. Many types of beans are allowed to grind: coffee, spices, dried fruits, flax seed, pepper etc.

Easy and safe operation: With a single button, KYG electric grinder is very easy to operate. Even with one hand, it can work very well. Once you release the button, the machine will stop immediately.

Compact and elegant design: For the small design and ergonomic shape, this grinder does not take up much space and is easy to store. One hand can take it easily. Three non-slip, shock-absorbing rubber feet provide stability.

Note: this product cannot be cleaned directly with water. You can clean it with dry cloth or brush.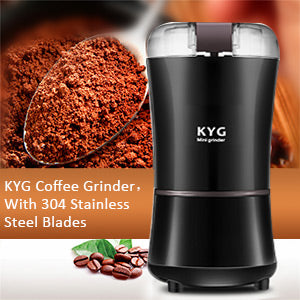 KYG QUALITÄT
Die Kaffeemühle arbeitet schnell und leise und der frisch gemahlener Kaffee schmeckt einwandfrei.
300 Watt, Leistungstark
Schlagmesser aus Edelstahl
Robuste Gehäuse und Deckel
Mahlgrad je nach Mahldauer
Impuls drücken oder Dauerdrücken
Mit dem beigelegtem Pinsel sehr einfach zu renigen
Die Mühle ist klein, wenig Platz in Anspruch nimmt
Lieferumfang
1* KYG Elektrische Kaffeemühle
1* Reinigungsbürste & 1* Edelstahl Löffel
1* Bedienungsanleitung(mehrsprachig)
Technische Daten
Material vom Schlagmesser: Edelstahl
Leistung: 300 Watt
Inhalt Bohnenbehälter: 50 g
Nettogewicht: 587g
Betriebsart: Netzbetrieb
Tiefe des Bohnenbehälters: 46mm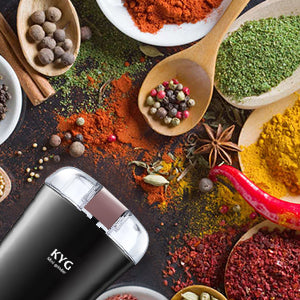 Außer Kaffee ist diese Mühle Puderzucker geeignet, getrocknete Kräuter, Nüsse, Reismehl usw. Alle wurden in Sekundenschnelle zerschlagen und wenn man die Maschine noch etwas weiterlaufen lässt, bekommt man staubfeines Pulver.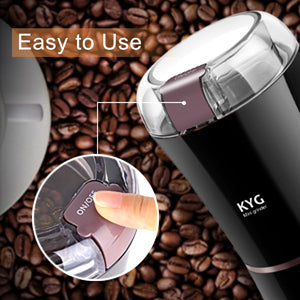 Mit 300 Watt starker Leistung ist super für Kurzzeitbetrieb (innerhalb 1 min) ausgelegt, Kaffee frisch gemahlen, schnell und einfach gemahlen. Kaffee wird je nach Dauer des Schalters grob oder feiner gemahlen.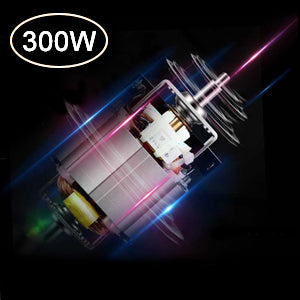 Der große Druckknopf, sehr einfach und sicher zu bedienen. Durch den klarsichtdeckel kann man jederzeit den feinheitsgrad beobachten und evtl nochmal kurz drücken zum weitermahlen, oder stoppen.